100km ultramarathon for Kawerau SPCA
20 January 2016
KATRIN Webb is taking on the challenge of the Tarawera Ultramarathon, a 100-kilometre off-road run from Rotorua to Kawerau, to raise funds for Kawerau SPCA.
With a love for running, animals and helping those in need, Mrs Webb wants to raise funds and awareness for the Kawerau group of SPCA volunteers, the members of which she has grown to love.
"I've been involved with Paul Charteris' Tarawera Ultramarathon run from Rotorua to Kawerau since 2009," she said.
She started as an aid station volunteer and ended up organising "the Rotorua side of things for several years".
When she began she thought people were crazy to run that far, but now she wants to know what it is like to run 100km.
"For me, this event is a personal challenge combining training with work and life, and making it to the finish line with a smile. But I don't want to make this just about myself."
Through her work with the ultramarathon over the past seven years, Mrs Webb had got to know and love the Kawerau community.
"Last year we decided to adopt a dog and drove to Kawerau SPCA to meet our future family member, Jett."
On their way to Kawerau they spotted a dog in the bush and when they stopped the dog ran toward them.
"[The dog was] a skeleton girl with a rope tied tight around her throat and she collapsed in my lap. The SPCA did not hesitate to take her in and give her a second chance."
When this happened, Mrs Webb learned that the dog's fate was not unusual in Kawerau.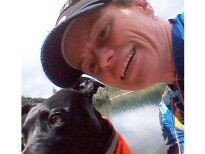 PALS: Rescued from the Kawerau SPCA, Jett loves running as much as Katrin Webb does. Except for long runs and hot days, the pair always runs together. Photos supplied
She said the area was poor and too many dogs and cats were not de-sexed, and too many dogs were used for hunting and left in the bush if deemed "not useful".
"This year gone has seen an unusually high number of animals, especially dogs, come through the centre, coupled with an unusually high number of dogs hit by cars and needing high-cost vet treatments," she said. "Two amputations, punctured lungs, torn off pads and things like this have left the centre with a very high vet bill."
The centre did the best it could, but being a small community, isolated and in a low socio-economic environment, resources were limited.
"Raising cash funds is especially hard for this centre. A centre that is run by an incredibly hard-working group of caring individuals."
Kawerau SPCA volunteer Judy Fergusson said the organisation was extremely busy taking in animals.
"[Katrin] is a very energetic lady and she has been very good to us. We can't praise her more for her efforts."
The ultramarathon is New Zealand's most prestigious ultra-run and a part of the Ultra Trail World Tour.
The eighth annual Tarawera Ultramarathon will be held on February 6.
"A small amount of money for you goes a long way for an animal in need.
"Two dollars buys a kilo of meat, which can feed a dog for several days. You don't need to give much to make a very big difference."
Mrs Webb has created a Give a Little page, paws4kawerau, and has raised over $1000.
To donate, go to the website https://givealittle.co.nz/fundraiser/paws4kawerau.
Source: Whakatane Beacon