Records fall on the mountain
1 November 2016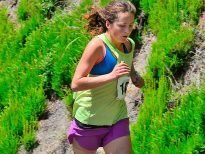 TOP RUN: Ruby Muir won her second queen of the mountain title. Photo Paula Massey D4465-346
WINNER: Shay Williamson broke the race record at the Kawerau King of the Mountain on Saturday. Photo Bruce Belcher
SHAY Williamson dominated an elite field to break a 28-year-old record on Saturday.
The Matata 22-year-old tore up and down Mount Putauaki in 45 minutes 31 seconds to claim a second Kawerau King of the Mountain title and better Barry Prosser's 1988 record by 23 seconds.
Williamson beat 2015 winner, Australian Ben Duffus, by well over a minute and left in his wake a field of top athletes which included Daniel Jones, Mark Bourne, Hayden Wilde, Chris Morrissey, Sam Clark and Sjors Corporaal.
Race director Lee Barton said it was the best field to line up for the annual race.
"The level of ability on show was amazing. Twenty three of the runners had previously run sub 60 times.
"We had the right conditions and a good track.
"The southwest breeze was constant all day and that helped too. But that is to take nothing away from Shay.
"Shay had four weeks training in South Island and I think he knew he had to do something special.
"It hurt us all Ben taking out our 60th race last year. It was a little niggle.
"Shay stuck in behind Ben on the skid then he hit the climb, which is his forte. Ben said he 'twinkle toed' past him."
Prosser, who won 12 Kawerau titles, was happy to see his record broken.
"I think it is awesome. Finally it is gone. It was great to see it go to a Kiwi and not an Aussie and that it was a younger guy too. It is hard to compare the races from when I set the record, the course is different."
Williamson reached the summit in 30.55 just missing out on the $2000 prize for reaching the top in under half an hour.
"Unofficially I think set a record for reaching the top," Barton said.
"The summit times are a bit tricky as they have not always been easy to track."
Williamson is the first person to hold both the king and prince titles after he set the bar for the junior race, for runners between nine and 13, in 2007.
The women's race was won by Napier's Ruby Muir who also won her second title after claiming the crown in 2014.
Muir won in 59.34 to crack the sub-60 barrier for the second time.
Defending champion Ohope's Corrinne Smit had to settle for second place, finishing in one hour seven minutes.
The prince of the mountain winner was Liam Dooley in 21 minutes 27 seconds.
Runner-up was Cory Warneford in a close finish eight seconds later and Bailey Fredericksen was third in 22.02.
Princess of the mountain winner was Demi Oliver in 23.53, Morgan Overington placed second in 24.18 and in third place was Gemma Baldey in 24.30.
Barton, in his first year as race director, said it was another great event.
"We had a great crew and the volunteers and safety personal did a great job.
"I was stoked with how it went and really just in awe of the whole event."
Kawerau King of the MountainPast five winning times
2016 Shay Williamson, 45.31
2015 Ben Duffus, 46.27
2014 Shay Williamson, 48.09
2013 Sjors Corporaal, 47.55
2012 Chris Morrissey, 51.03
Source; The Whakatane Beacon