National slalom selections in Kawerau
19 January 2016
ELITE New Zealand slalom paddlers took on the Tarawera River slalom course in national selection and ranking races on Saturday and Sunday.
The event, organised by Canoe Slalom New Zealand and Whitewater Kawerau, was the first major race of the 2016 season.
Canoe Slalom New Zealand committee member Sue Clarke said both days were gifted with suitable weather conditions for the competition.
On Saturday and Sunday, Olympians Michael Dawson and Luuka Jones took out the men and women's kayak races.
Representing Canoe Slalom Bay of Plenty, Patrick Washer, and Kelly Travers won the canoe slalom men and women's races.
Canoe Slalom committee member Lou Higgins said it was a great weekend and there was a lot of competition between the competitors.
"All sections had quite tough competition."
He said with the Brazil Olympics this year, Canoe Slalom expected top paddlers to begin their preparations to represent their country and to display top quality competition.
The next event at the Whitewater Slalom Course in Kawerau will be the Bay of Plenty championships on February 28, followed by the North Island championships on March 5.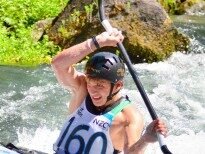 TURN: Bay of Plenty representative Damian Torwick turns his canoe to make it through the gates to the finish line. 
ALERT: Will Nelson, of Central Otago Whitewater Club, eyes the next gate. 
RACE: Under-14 kayaker George Snook in the men's kayak race.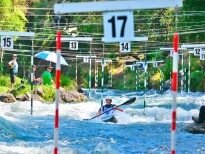 NAVIGATOR: Peter Paulin navigates the gates, trying for the best time in the men's kayak race. 
KAYAK RACER: Jane Nicholas, of Canoe Slalom Bay of Plenty, makes her way through the slalom course on Saturday to beat the clock.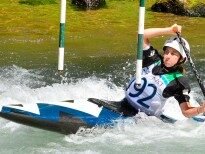 COMPETITOR: Kaydi O'Connor-Stratton, of Canoe Slalom Bay of Plenty, competes in the women's kayak race at the 2016 national selection and ranking races at Kawerau. 
Source: Whakatane Beacon