Kawerau celebrates Waitangi Day
10 February 2015
KAWERAU celebrated Waitangi Day with a community event on Friday afternoon that included information about Waitangi Day's history, entertainment, food and games.
Manna Support Services community development officer Bob Austin said organisers began setting up for the event early on Friday morning in preparation for the 10am opening.
He said the circus paddock next to the town's skate park on Plunket Street proved the ideal location with plenty of parking and children's climbing frames next door.
Organisers Te Wananga o Aotearoa, with support from Te Whiri Kawai, Tuwharetoa ki Kawerau and Manna Support Services, transformed the area with marquees, gazebos and a flatbed trailer for a stage.
Whirimako Black finished the afternoon's musical entertainment with te reo interpretations of well-known songs. She was joined by Rikiana Kingi toward the end of her set.
Mr Austin said Te Wananga o Aotearoa hosted a Waitangi 101 centre and provided information on upcoming courses.
Tuwharetoa ki Kawerau's bright green gazebo was busy with cervical and breast screening awareness, and physical health and engagement promotion, he said.
Manna Support's gazebo encouraged school leavers to sign up to Youth Services, designed to help 15- to 19-year-olds transition smoothly from school into further education, training and employment.
He said the day's free sausage sizzle was popular and kept the crowds of 300 to 400 people fed before the event finished at 2pm.
A range of children's games were provided and included apple bobbing, magnet fishing and quoits.
Many of the competitors used the apple bobbing as an excuse to cool down on a very warm day, even by Kawerau's standards, Mr Austin said.
BOOT TOSSING: Shane Rakei, 13, Jezaiah Kahu, 11, and Rangataua Rakei, 9, test their arms during the gumboot toss. D1670-063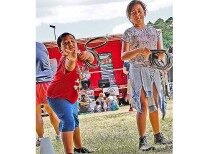 FOCUSED THROW: Kayden Pene aims for a cone during his game of quiots, while Rahia Teriini waits for a turn. D1670-077
STALL SELECTION: A range of agencies provided information about study and health options on Friday, along with a stand offering information about Waitangi Day. D1670-123
LUNCH TIME: Irene Reuben is in charge of the Waitangi Day sausage sizzle, which helped feed the crowd. D1670-112
FRUITY SURPRISE: Seven-year-old Alasaka Patrick pulls an orange from the bobbing bucket. D1670-027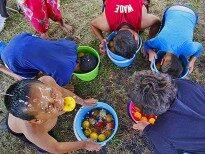 BOBBING TEAM: Tukiwaho Karepa, 9, emerges from a bucket during the apple bobbing competition on Friday. Photos Louis Klaassen D1670-043
WAITANGI DAY OUT: Cedes Laing, Manaia Laing-Te Rangi and Bonita Nimo relax on the grass and enjoy the afternoon's entertainment. D1670-109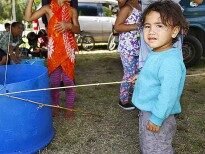 TAKING IT ALL IN: Two-year-old Nesyre'Lee McRae spots the camera. D1670-009
Source: Whakatane Beacon