Photos Adyn Ogle D1892-59
LOCAL derbies are a great way to start any season.
Whether the ball is oval or round, there is little that can emulate that extra spice the comes with playing the team from down the road.
One of the Eastern Bay's best sporting rivalries kicked off the football season as Whakatane hosted Kawerau in the Waikato Bay of Plenty championship on Saturday.
Kawerau boasted a swift attacking force and had too much firepower for the home team, winning 7-4.
But they didn't have it all their own way, immediately after both of Kawerau's first half goals Whakatane replied and at halftime the score was 2-2.
But the visitors flexed their muscles after the break, scoring early to set the tone and the platform for the win.
Up front Brendon Mitchell and Cameron Wills provided the pace to Kawerau's attack. Mitchell landed a hat-trick, Wills scored twice while Michael Sims and Simon Storey scored once each.
Whakatane were however far from rolling over, with Ricky Owen and Joseph Cairns both completing a brace of goals. The game featured as many goals as the rest of the league combined in the opening round.
Kawerau coach Jonathan Carter said it was good to pick up three competition points, particularly as a few players were attending a wedding on Saturday.
"We are pretty happy with that. We were missing a fair few players today and us old fellas had to come in."
Carter said the step up in the second half came after a change in their approach.
"We told the players to push on and not sit back and we thought we could win the game like that.
"We knew they could come out from the start and that it would be a tough game initially.
"But I always thought we would wear them down, which happened eventually. They hung in there for a while."
Carter said they had not planned for an overly aggressive approach, but more a natural direction the team would take.
"It just came out that way today. I believe we are a very attacking team this year. I think we will score a lot of goals it will just be a case of our defence holding."
In other matches in the division, Cluadelands were the only other away team to win, beating West Hamilton 1-0.
Matamata had a goal-less draw with Cambridge, Te Puke beat Te Awamutu 4-1 and Tokoroa thumped Tauranga Old Blues 5-0.
Kawerau have the bye this weekend while Whakatane travel to Te Awamutu.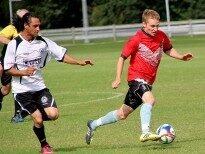 GETTING AWAY: Kawerau striker Brendon Mitchell takes the ball ahead as Whakatane's Matt Haslam looks on. D1892-49 
Source: Whakatane Beacon