Business: Meet the woman with faith in Kawerau
8 March 2016
Bernadette Soares is giving hope to a community that has been lost for too long, writes Jo-Marie Baker
Bernatette Soares is the epitome of glamour.
She's a corporate high-flyer, selling her products to affluent women, beauty spas and salons throughout New Zealand, Australia and many other countries around the globe.
But one weekend a month she ditches her high heels and expensive jewellery, packs up her family's caravan and steps into an entirely different world.
The 47-year-old, who holds a Masters Degree in Business Innovation and Entrepreneurship, is now holding business mentoring workshops in small Bay of Plenty towns, aiming to help others chase their ambitions despite not living in a big city or having access to the resources that start-up companies often depend upon.
It's the culmination of a life-long dream for Bernadette, who started her business endeavours in 2002 with the aim of one day using its financial resources to serve a bigger purpose.
"When I go to places like Kawerau, everything's authentic and I live 100 per cent in the real world. I just love it. It gives me a sense of balance."
Bernadette, together with her husband Clyde and Kawerau Community Church's former pastor, Matai Bennett, launched a new charitable trust called Let Your Light Shine in early 2015, following a one-off motivational speaking engagement.
"I didn't even know where Kawerau was on the map," Bernadette admits.
"But I spoke to church members and shared my story. Their simplicity, loving acceptance and openness to hearing and sharing so inspired me that I came back to Auckland unable to get the town and its people off my mind.
There are a lot of struggles – people who live on benefits and have never known any other life. I happen to have come from a difficult background so my story was very relatable to them. I'm not just some city slicker.

Bernadette Soares
"We especially engage with people with business ideas that are facing real challenges and provide concrete ideas, resources, inspiration and hope." Let Your Light Shine's vision is to work with small town dwellers who want to turn their lives around. New initiatives trialled by the trust last year brought many positive results – maths and science workshops for local high school kids, healthy living and cooking sessions and women's empowerment groups.
But the business mentoring workshops have proven to be the most successful of all. Bernadette now regularly meets with a dozen or so budding entrepreneurs each month to coach and encourage them to overcome whatever obstacles lie in their way. Clyde has an IT background and helps with advice on the computing side, and is also a wonderful support to Bernadette.
"At the end of the day I'm very real with them. There's been many instances in the last 15 years when I was in total despair and at the point of losing it all. I tell them those stories – that's what business is like. If you don't want to ride the rollercoaster, don't get on. Business is an adventure."
Bernadette well and truly understands the hurdles they face. She arrived in New Zealand from India aged 21 with very little money and no contacts. and began making her first beauty product on her home stove, selling 5kg batches of hot sugar wax to neighbours and friends.
That product, BodEze, is now among her stable of successful brands, alongside Natural Glow, Radiessence mineral make-up and Phâro – a natural, sugar-based waxing system used by salons nationwide. Her umbrella company for her beauty brands is Brand Value and Bernadette donates two per cent from selected products to empower the Kawerau community (brandvaluestore.com).
"I totally understand that many of the people I mentor are starting from scratch and the major challenges they face. Whenever people tell me about their situations, I don't see it as a road block. I just say 'so what?' Let's work with what we have to overcome it."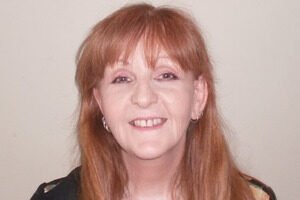 Jan Kingi launched a business with Bernadette's help. Photo/supplied
Bernadette has been heartened by the wonderful support she's received from Kawerau's wider business community. The town's economic development agency, KEA, lets her use their boardroom for each of her monthly workshops and she is constantly buoyed by the success she's helping people achieve.
Jan Kingi is one prime example. The 56-year-old seamstress was earning a modest income doing clothing alterations but with Bernadette's help has launched a business, Suit Yourself.
People enter their exact measurements on one of her websites (mensuityourself.com, ladiesuityourself.weebly.com or italianonlysuityourself.weebly.com) and order a custom-made suit, manufactured overseas and delivered to their door. "I've really been able to pick Bernadette's brain for ideas I can use," Jan says. ".
There's no hidden agenda – she doesn't want anything back. People here love her because she has such an open heart. She even lent one man in our business group a car when his broke down and he couldn't afford to have it fixed."
Bernadette, meanwhile, is reluctant to take too much credit. "I didn't give Jan her idea, I just planted the seed," she says.
She's always been really encouraging and supportive. She has a wealth of knowledge and is happy to share it.

Jan Kingi
"She came up with the brand name herself. She has designed her own logos, websites and everything. You have to be resourceful when you live in a small town and don't have access to all the professional services you might find in a big city."
Another of Bernadette's protégés is a keen fishermen. Under her guidance, he's now developing an oceanography app that will weigh up factors such as currents, location and sea temperature to advise people where the best fishing spots are likely to be on any given day.
But despite the progress, there have also been setbacks. Some people enthusiastically show up for six months and then throw in the towel.
"Some of them come back again, some don't. It's not all smooth sailing. I ride their successes and enjoy that. But I feel equally bad about the failures."
During her monthly workshops, Bernadette follows tried and tested mentoring principles.
She asks people to think big – "dream the impossible" – and write it down on paper.
Those exercises helps stretch their goals, imaginations and vision. Then we go back to the basics of where to start

Bernadette Soares
Word of Bernadette's workshops has quickly spread and she has recently established a second mentoring group in Opotiki. She also has requests coming in from other communities such as Te Awamutu, which she hopes to start visiting regularly in March.
"The biggest thing I teach people is hope. Everything in business, and life, is based on hope. Hope that you can change, that things can be better, that there's a different way."
Bernadette's Christian faith plays a big role in motivating her to help others. While Let Your Light Shine is focused more on meeting people's practical needs rather than spiritual ones, Bernadette says there's been a ground-swell of interest in Kawerau's Community Churches, particularly among the town's youth. "So much is changing in Kawerau now. There are so many positive things going on."
Kawerau Enterprise Agency (KEA) executive director Helen Stewart agrees, saying Bernadette's presence has had a major impact on the town.
"What she's doing is covering an area that's been pretty neglected. Other organisations like New Zealand Trade and Enterprise offer help but it's not at the level that many of these people need it.
"Bernadette is teaching them life skills as well as business skills. She doesn't give up on people and she's very good at trying to get the best out of everybody."
Business with purpose
By Bernadette Soares
If you choose to be in business, it will dominate much of your life. My advice is to have a bigger purpose than just money otherwise your business will be all- consuming and you may lose other important aspects of your life.
Your purpose will change over time depending on your life circumstances. I started off setting up a business to work around my children. As they grew, my purpose became more market-focused to grow the products and brands to compete successfully. I am now more outward-focused so I can share my learnings with other businesses.
When you build a business with a purpose that is larger than your own success, you will find it easier to maintain motivation, momentum and growth.
Ask yourself 'why do I want to generate more income or make a profit?' More than likely your answer will relate to spending more time with your children, or being able to step out of the daily grind long enough to see more of the world, and to be able to contribute time and money to organisations that help humans or animals in need.
Always keep that bigger picture in mind. Your vision can provide significant help to our hurting world.
Source: – Bay of Plenty Times