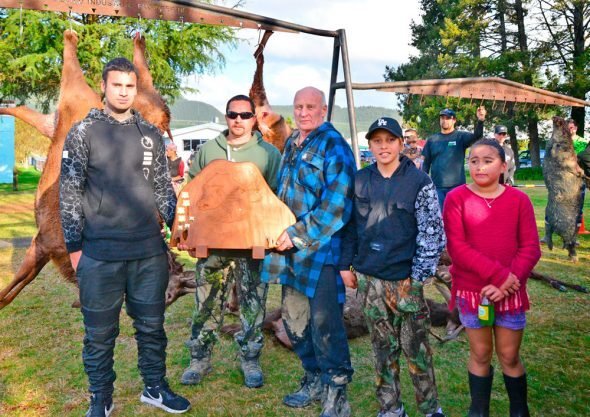 WEIGH-IN: Vaina Drummond, Dion Russell, Big 3 and individual winner, Charlie Drummond, TJ Parker and Mya Nelson at the Kawerau Ex-Royal Navalmen's Club. D4175-25
TE ARAROA hunters won the top prize at the annual Kawerau Big 3 competition last week with their combined catch of 151 kilograms.
The team, Tee Roa, made up of Dion Russell, Nilly Hovell and Taylor Hovell, won the 2016 title and $1200.
They caught a 69.1kg stag, 80kg boar and 1.72kg snapper.
Fourteen teams and 33 individuals registered for the annual land-based hunting competition, which challenges entrants to catch a stag, a boar and a snapper.
It began on Friday and finished at 3pm on Saturday. Hunters took their catches to Kawerau's Ex-Royal Navalmen's Club for the weigh-in.
The final tally included eight stags, five boars and four snapper.
Big 3 president Rhys Dawson said it was another successful event, in spite of competitor numbers being lower than in previous years.
The event has run for eight years and this year included many returning competitors.
"Everyone we talked to loved it and we received some good feedback," Mr Dawson said.
"The weather played a big part and the fishing was hard, but they were still out there doing it."
The biggest individual boar prize of $250 was won by Luke Cassidy with his 46.8kg catch.
The biggest individual stag prize of $250 was won by Dion Russell with his 101.8kg catch.
No individual competitor was able to reel in a snapper.
This year a new prize was added for the boar closest to the average weight of all those weighed – 57.3kg.
Team 3 Pork Chops, compromising Connor Henry, Chris Gayman and Ash White, won it with their 52kg boar. For the win they received $300 plus an outdoor cooker.
The team was also second overall and received an extra $200 for their combined-catch weigh-in of 140.42kg.
Mr Dawson said for the past two years Hunting and Fishing had provided a major spot prize.
This year the prize was a Universal Food Cooker, valued at more than $700, won by competitor Joe Karekare.
WEIGH IN: Luke Cassidy, winner of the biggest individual boar, and Kaydence Cassidy at the weigh-in. D4175-20
HUNTERS: Ash White, Chris Johnston and Connor Henry with their outdoor cooker for winning the new average boar-weight prize. Photos Paula Massey D4175-02
Source: Whakatane Beacon