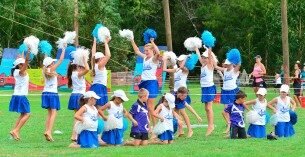 WINNERS: Awakeri School took the top cheerleaders title. D3436-245
KAWERAU South School may as well not bother handing over the Top School trophy each year because it just wins it back.
After sharing the title with competition hosts Awakeri in 2015, Kawerau South School made sure it secured the sought-after title for itself on Sunday.
It is the fifth time in seven years that Kawerau South School has bagged the title and some of the kudos for the wins goes to teacher and long-time team trainer Rose Hyland.
Top School 2016 attracted schools from around the Eastern Bay, including as far away as Whangaparaoa.
As in the past, it was held in conjunction with a fundraising garage sale and gala, which attracted a good crowd and raised $30,000 for a new climbing net for senior students.
Whakatane Intermediate's year 7 team won the year 7 and 8 competition for intermediates and large full primaries ahead of Edgecumbe Primary with Te Kura o Te Teko winning the year 7 and 8 competition for small full primaries for a second year running, ahead of Waiotahe in second place.
Kawerau South School won the primary section from runner-up Edgecumbe.
Awakeri School won the overall cheerleaders award with Otakiri/Thornton sharing honours for the largest squad.
Awakeri School principal Peter Fitzgerald said it was a brilliant day.
"We fluked it with the weather. We thought it was going to be tipping down but it didn't and it was really fantastic.
"It was very well supported considering the big surf lifesaving competition on at the same time – we were very pleased with the crowd."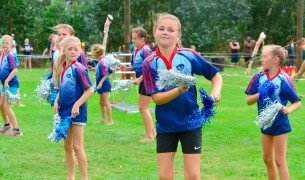 GO OHOPE: Working the cheer for Ohope Beach School are Maia Townsend, Nelle McNabb (obscured), Ashlyn Bennett, Cadence MacArthur and Shani Jalava. D3436-330
ON TARGET: Brianna Wilson from Woodlands School in Opotiki gets ready to toss her ball. D3436-312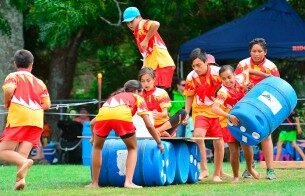 BARRELLING: Ashbrook School's team of Hugh Oyanagi, Maya Wharepapa, Shakyia Takamore, Keegan Williams, Turoa Biddle, Teaniwa Te Kani and Atu Manaia work on removing and replacing their barrels. D3436-291
TEAMWORK: Tyler Lang, Alex Schadler, Kobe Mills (obscured), Stevie Shaw, Emily McClure (obscured), Sasha Knight, Donovan Barnett and Zahara Magee from Thornton School finished in sixth place. D3436-278
ON TASK: Bailey Erdeer of Otakiri School holds tight to his harness and ball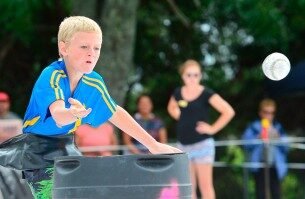 BALLS AWAY: Brendan Hedderwick fires his ball. D3436-259
SLIP-SLIDING: Amio Pryor from Matata Public School works to keep her footing on the slippery surface. D3436-249
EMPTY: Xavier Marr from Matata Public School gets rid of his water. D3436-242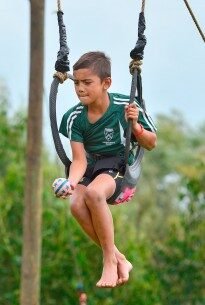 WINNERS: A member of the winning Kawerau South School team
RUNNERS: The Waiotahe School team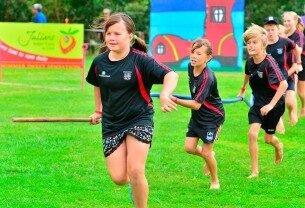 BUCKET: Otakiri School's Ella Fenwick gets ready to dump her pail of water. D3436-090
SWINGING: Edgecumbe Primary's Kerry Ranata leans forward before dropping her ball into the bucket. D3436-220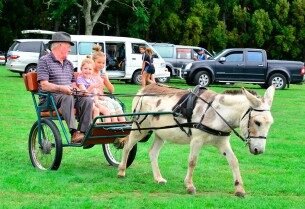 RIDE: Lawrence take Ellie, 4, and Payton, 8, for a pony ride
SMASH-IT: Shartina Broughton and Javarn Cooper take out their frustration on a car wreck at the gala. D3436-208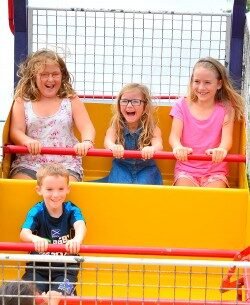 RIDING HIGH: Kiara Templeman, 8, Kaelyn McDonald, 6, Bailey McDonald, 8 and Michael Jones (front) enjoy one of the fairground rides. D3436-187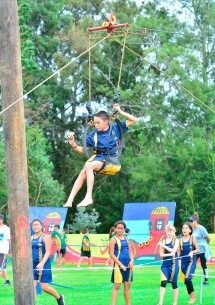 FLYING: Waiotahe School in action
ALONE: Maia Nuku makes it onto the slide with no other competitors in sight. D3436-161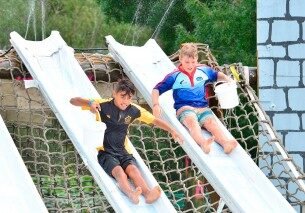 SLIDE-OFF: Manutapuke Waretini from Te Teko and Zak Boonen from Ohope race each other down the slide. D3436-144
TIPPING: Caitlyn Esterhuizen empties what water she had left. D3436-142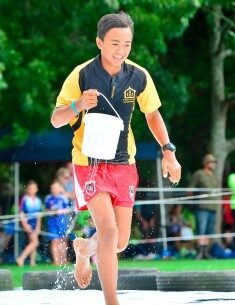 SPILLAGE: There's not much Te Rawhiti Nikora-Reuben can do about his water loss except run faster. D3436-139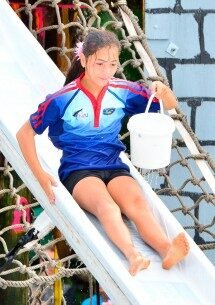 LEAKING: Ohope School's Hine Newth races down the slide with her leaking bucket. D3436-128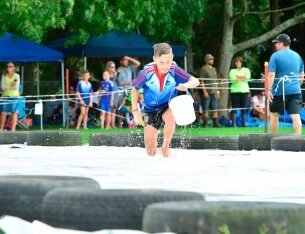 RACING: Jesse Kara from Ohope School races to deliver his water bucket. D3436-119
TAKING AIM: Whakarua Huirua from Edgecumbe Primary takes aim at the bucket. D3436-107
TEAMWORK: Waiotahe School
BUCKET: Otakiri School's Ella Fenwick gets ready to dump her pail of water. D3436-090
STRETCHED: Awakeri School's Codi Laurent stretches the bungy to its maximum before letting go of his ball. D3436-085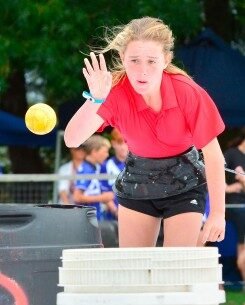 AIM OFF: It looks like a miss for Emily McClure from Thornton School. D3436-083
THREADING: Edgecumbe Primary's team run their hose
LONG DISTANCE: Keegan Williams tries for a long-distance throw, watched by his teammate from Ashbook School in Opotiki. D3436-014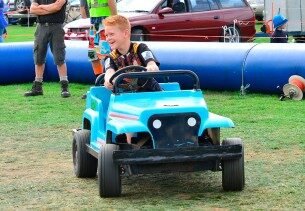 YOUNG DRIVER: Kyan Edwards, 8, enjoys driving at the Top School gala. D3436-001