Six-hour race biggest adventure yet
10 June 2015
THEY'RE OFF: Competitors begin the Kawerau Six-Hour Adventure Race from Firmin Field on Saturday. Photo Louis Klaassen
THE Kawerau Six-Hour Adventure Race included a record number of competitors on Saturday.
Event committee member Edwina O'Brien said a record 400 people participated 127 teams, trekking, mountainbiking and various activities at checkpoint around Kawerau and Mount Putauaki.
As well as shooting and lawn dart activities, competitors had to cross the Tarawera River on a make-shift bridge made of rafts tied together.
Teams were rewarded for going to the extra checkpoints and for finishing inside six hours. Likewise they were penalised for each minute over six hours.
"Our mystery activities were different," O'Brien said.
"They had to shoot one of their team members with a paintball gun, safely of course. But it was cold and they didn't always explode and that can hurt.
"A couple fell in the water on the raft crossing, but some of them were amazing at it."
O'Brien said the increase in the event's popularity was great to see.
"We are based around the beginner and we want people to know they are capable of doing this event.
"We have sections for three levels and there is flexibility to do more if teams feel they can.
"We were very fortunate to use the back of Mount Putauaki for the first time.
"As well as the out-of-town teams we had great local support. We had eight student and two staff teams from Tarawera High School and Nga Maunga Kaitiaki Trust donated $1000 as prizemoney for local teams."
The winning team was the four-person mixed team of David Blundell, Rob Lei, Cambell Bennett and Rachel Lynskey who completed the course in five hours three minutes.
They were 15 minutes ahead of second-placed secondary school duo of Shaun Palmer and Jack Mathews.
The two-person female team of Rachel Smith and Rebecca Smith were third overall.
Whakatane's Sam Clark teamed up with Chris Morrissey, Dennis De Monchy and Hannah Lowe to place seventh overall and fifth in the mixed four-person seciton.
The Whakatane pair of Jason Good and Dean Sisson won the men's pair section. Kimberly Byres and Rene Kapa won the mixed pair category.
Trident High School had 52 students take part in the event.
The year nine and 10 boy's section was won by Trident's Regan Wilson and Oliver Dobbin and the
Trident trifecta was completed with the teams of Alex Coventry and Tim Olthuis and Oliver Thompson and Jack Du Toit next in.
Trident's two-person junior girls team of Courtney Moir and Charlotte Knight won their category
Beacon photographer Louis Klaassen followed the competitors around the course to capture the action.
RIDING ON: Ian Conventry and Justine Conventry made up half of a mixed four-person team. D2143-402
STAYING AFLOAT: Kaitlin Blackwood negotiates the raft bridge. D2143-639
HARD ROAD: Hunter Billings competes on the bike leg. D2143-142
COMING DOWN: Jason Good and Lawrence Harper negotiate a slope. D2143-560
SURE SHOT: Karen Stanton throws a lawn dart in one of the alternative activities. D2143-220
TAKING AIM: Graham Walker oversees Emmalee Chapman taking on a shooting activity. D2143-253
BOAT BALANCE: Chris Morrissey, Sam Clark and Dennis Monchy take on a raft bridge. D2143-615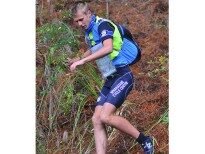 FAST FOOTWORK: Robert Lengkeek shreds through the pine needles. D2143-482
Source: Whakatane Beacon