10 December 2014
AFTER months of renovations two buildings shifted to the corner of Kawerau's Manukorihi Drive are renovated and ready to become the new head office of Mainstream Engineering Limited.
MEL director Darrin Hawkes said a blessing was organised for the two buildings on Wednesday next week and staff would shift in later that day.
The mechanical maintenance and design firm provides technical support for a number of industrial businesses.
Mr Hawkes and his wife Dianne Hawkes, the company's finance director, started the business 10 years ago to service the Tasman mills.
Since then, MEL has grown to employ 16 staff and has customers around New Zealand and in Australia.
Along with the new Kawerau offices, MEL is opening an office in Christchurch and two years ago purchased Rotorua company Air Systems Engineering.
Mr Hawkes said he chose to base MEL in Kawerau to support the town's large industrial customers and because its location was central to Rotorua, Whakatane and Tauranga.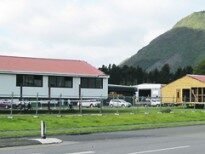 BEFORE: When the Mainstream Engineering building arrived from Ngongotaha in two pieces in August it was decided not to join them back together.
"There are good opportunities for Kawerau in the future and we want to be part of that. We are part of the chamber of commerce and Industrial Symbiosis and we're trying to do everything we can to help growth in the Eastern Bay."
The new site, on the corner of Manukorihi and Tamarangi drives, was originally owned by the Kawerau Enterprise Agency. KEA subdivided the site specifically for the MEL development.
Mr Hawkes said it was important for the business to be in the Manukorihi area because it was less than five minutes to the mill site and close to other companies MEL collaborated with.
"With the resources available on Manukorihi Drive we are right up there with the leaders in our field and there isn't much we can't do."
The two offices were originally one old engineering building, which was shifted from Ngongotaha in two sections.
When they arrived in August the site suited two buildings rather than one larger one, so they were kept separate.
Mr Hawkes said they chose this option because it was faster and cheaper than building from scratch, plus the offices were Lockwood and the timber aesthetic suited Kawerau's industry.
The building will be formally opened in January to coincide with the welcoming of new staff.
Both MEL's offices and business have grown with support from KEA this year. The company joined the Incubate business mentoring scheme earlier this year.
Mr Hawkes said after operating for 10 years MEL was the most established business taking part in the scheme, which provided reminders and extra development support.
Source: Whakatane Beacon