10 April 2015
CRAFT EARS: Desire-Praise Galvin, Hunter Hunia, Te Ohorere McMillian, Whikitoria Te Riini, and Azariah Kinghazel-Pukeroa perform, some wearing rabbit ears made during the day's craft activities. Photos Louis Klaassen D1910-043
KAWERAU'S Prideaux Park was transformed into an interactive haven for children with games, healthy snacks and arts and crafts on Wednesday last week.
The annual Well Child Day, held between 10am and 2pm, brought together parents, children and service providers to demonstrate services available for children up to eight years old.
East Bay Reap safe kids injury prevention co-ordinator for Kawerau Jodi Hawe said the annual event helped parents put names to faces of organisations and helped them learn how to access services.
Seven organisations hosted stalls and staff members from other groups mingled and chatted with the crowd.
She estimated 150 people attended the event, including children from nearby schools and kindergartens.
Activities included sports, arts and crafts, and healthy eating options to keep children occupied while parents talked to providers.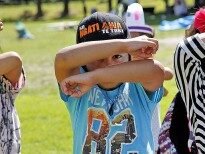 FOCUSED PERFORMANCE: Hunter Hunia performs during the Wednesday event. D1910-054
HEALTH SNACKS: Hare Takarangi-Tawhai enjoys a healthy food option. D1910-028