"I sat down in this massive room with all these people, and The Rock walked in."
Mcnaught says he was initially taken on as a stand-in, substituting for Johnson before filming so scenes could be set up for lighting and camera arrangements.
He says he progressed to being a back-up body double to Johnson's cousin and stuntman Tanoai Reed, filling in for the actor in a number of scenes where Johnson's face isn't shown. He recalls the nerves of his first time in that role.
"I'm sitting in a helicopter, there's the co-stars. We ran through the scene and they were like, 'Yeah, that's good but we're gonna do it again, breathe!'. I literally didn't take one breath through the entire scene."
Mcnaught has even got The Rock's signature move sussed, The People's Eyebrow.
Leaving him gasping as well was the exercise regime needed to match the massively-muscled Johnson, 44.
At 1.88m Mcnaught, who is also a personal trainer, is not quite as tall as the Moana actor, who stands at a towering 1.96m.
But switching from a calisthenics exercise regime, which uses one's own body weight to build muscle, to pumping serious iron, he bulked up from 90kg to 120kg at 7 per cent body fat to mirror Johnson's frame.
Dwayne Johnson poses at the premiere of 'San Andreas' in Hollywood, California in May 2015.
"My call-time would be 3 o'clock in the morning. I'd wake up at one, go to the gym and train. Then I'd train on my lunch-break, and after work. Three times a day, seven days a week, for six months. Five hours a day.
"For breakfast I was eating 10 to 12 eggs. Then I'd just eat through the day. For dinner I'd have like two whole chickens."
Mcnaught, of Ngati Porou and Nga Rauru descent, also had the make-up team working out. He says it took four artists three-and-a-half hours a time to cover his moko and apply an imitation of Johnson's body art for scenes where skin was showing.
Kelly Mcnaught needed to sculpt a physique to match the massively-muscled Johnson.
Johnson himself joined the make-up team when a young visitor was brought to the filming location, he says.
"We literally stopped production when this boy that was sick came in, and they drew his tattoos, and Johnson helped draw his tattoos on him, he got photos with him. He goes out of his way to help people because he is such an icon.
"He's one of the most humble gentlemen you could ever meet. He says hello to everybody on set, even if you're the guy running coffees. He tries to learn everybody's name. He openly smiles and shakes people's hands."
Dwayne Johnson has become one of the most bankable stars in Hollywood.
Johnson ensured he felt at ease and included during the months of filming, Mcnaught says.
"He didn't have to do anything for me, I was just privileged enough to work there. But he invited me out to dinners. When we sat down and had a chat the first time, he asked me about my family and everything about me, and said, 'How are you finding it?
"I said, I've never actually worked in the movie industry before'. I said, 'Thank you, coz I've learnt so much just from watching you on set'. He's so professional. He puts 100 per cent in everything."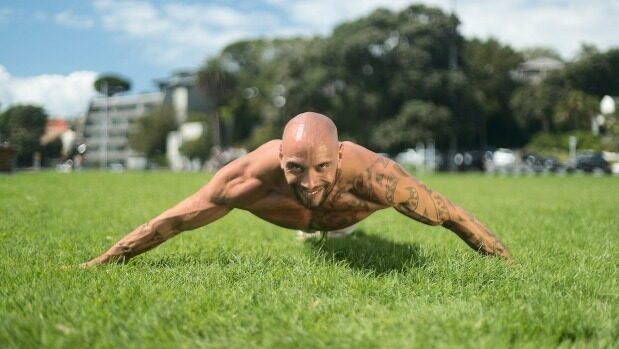 Mcnaught keeps in shape between big-screen gigs practicing and teaching calisthenics, a form of weight training using only the person;s bodyweight.
Mcnaught's muscled-up build, shaved head and similar facial features had him mistaken for the superstar on numerous occasions, he says, including requests for photos and him to "do the eyebrow" despite informing fans he wasn't actually Johnson.
He is in fact proficient at the 'People's Eyebrow', a signature move from Johnson's pro-wrestling days where he raised one eyebrow while lowering the other.
Mcnaught lost much of his bulk for his next role, he says – an acting part as a buccaneer in the upcoming Dead Men Tell No Tales, the fifth in the Pirates of the Caribbean blockbuster film series.
Mcnaught says Johnson is "one of the most humble gentlemen you could ever meet. He says hello to everybody on set, even if you're the guy running coffees".
He says he got down to as low as 84kg to play a member of a pirate crew during filming in Australia for the movie, set to be released in May.
Mcnaught says he and fellow pirate crew members got a parting gift from Hollywood heartthrob Johnny Depp, who plays lead role Captain Jack Sparrow. Depp had been "amazing" to work alongside. "He'd sit around and we'd play guitar."
"We all had a wrap party and got to say thank-you and bye to Johnny and everybody, and that was cool."
"For us pirates . . . he gave us all guitar picks," he says.
Mcnaught, currently 93kg-and-rising at 6 per cent body fat, is training three times a day up to two hours a time to stack a pile of muscle back on for a potential role in another major movie. He is unable to talk about the film for contractual reasons.
Mcnaught keeps in shape between big-screen gigs practicing and teaching calisthenics. He switched from pumping iron after an "epic fail" trying to do one such workout.
"I was about 125kg, massive, aesthetically looked amazing but all I could do was three pull-ups."
He stripped bodyweight, worked on flexibility, and can now do 37 pull-ups non-stop, plus perform gravity-defying moves including holding himself at 90 degrees above, below and even sideways from bars on calisthenics equipment at parks like Auckland's Mission Bay.
He hopes councils around New Zealand install similar open-air equipment to encourage people into more active lifestyles.
* Mcnaught will be hosting a free beginners calisthenics class once a month. Details about how to sign up for a class can be found on the KAHA Calisthenics Facebook page.
Source: Stuff