22 May 2015
RAINBOW WINGS: A turquoisine parrot or pulchella, owned by Marty Sisson. Photo
Troy Baker
WHAKATANE Bird Club will host its 61st annual bird show over Queen's Birthday weekend with up to 600 entries expected from around the North Island.
Bird club publicity officer Sylvia Lawson said bird owners and judges were travelling from Auckland, Gisborne, Waikato, Wanganui and Taranaki to Kawerau, where the event will be run in the town hall.
It will run from 1.30pm to 5pm on Saturday, May 30 and 9.30am to 12pm on Sunday, May 31.
Birds will be for sale at the avian gathering and there will be raffles.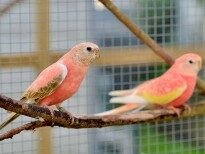 PINK PAIR: These Rosey Bourke birds will be on display in Kawerau on May 30-31. D2067-20
Source: Whakatane Beacon