19 September 2017
THOUSANDS of sedges and rushes have been planted near the Tarawera River mouth to help in the regeneration and preservation of marine populations.
The operation, which has been four years in the making, involves Ngati Rangitihi, Ngati Tuwharetoa and Ngati Awa with the Oji Fibre Solutions and Norske Skog mills in Kawerau, working together in an effort to restore native plants to the river.
Co-ordinator Chris Clarke says Tarawera River is home to a large fish population and a healthy eel population. To help preserve this, volunteers worked with consultants from Wildlands to create a canal system and a large supply of fresh native plants to provide shelter for the marine life.
"The land was just being wasted, so we want to do something with it," he says.
Wildlands consultant Rob Ireton says invasive migrant plants have overtaken much of the river already.
The mass planting last Thursday is a trial, similar to another trial taking place in Maketu to determine how the introduction of canals and native plants affect the marine life. All the plants are native, sourced from nurseries in Rotorua and Coastlands.
Chris says if the operation is a success, follow-ups and expansions will be considered across New Zealand.
Eastern Bay schools had planned to join the planting day but were unable to because of bad weather.
PRESERVATION: Volunteer Chris Clarke uses his spade to create a hole for a clump of sedge. D5893-21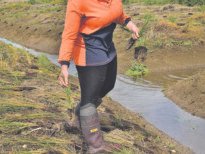 SPACING: Harriet Kemp from Wildlands spreads grasses along the canal bank. D5893-38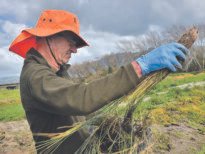 SEDGE: Wildlands consultant Rob Ireton sorts some sedge grass ready for planting. Photos Louis Klaassen D5893-12
Source: Whakatane Beacon